Refundable Deposit Old Core Policy
Here at StarterMotorAlternator.com, we specialise in hard-to-find, rare and classic Starter Motors and Alternators. Owing to this, we work very closely with the biggest and best suppliers in the market which means in some cases, we are the only online retailer capable of supplying the most rare and unique parts.
We are only able to do this by using a process known as "remanufacturing" which requires the reclamation of used products, known as "cores", and in our situation is why we have refundable deposits in place. When you purchase a rare, new, or unique part that carries a refundable deposit, you have to pay the deposit in addition to the price of the part itself.
According to European law, the refundable deposit is the amount that the manufacturer requires as a guarantee the old part will be returned for remanufacturing. Your deposit is refunded when the old part is returned. The value amount of the refundable deposit is determined by the supplier of the part, not by us.
How to get your refundable deposit back
In the box with your part there will be a pre-paid FedEx returns label attached to your invoice. Once you have fitted your new part, please follow the instructions below: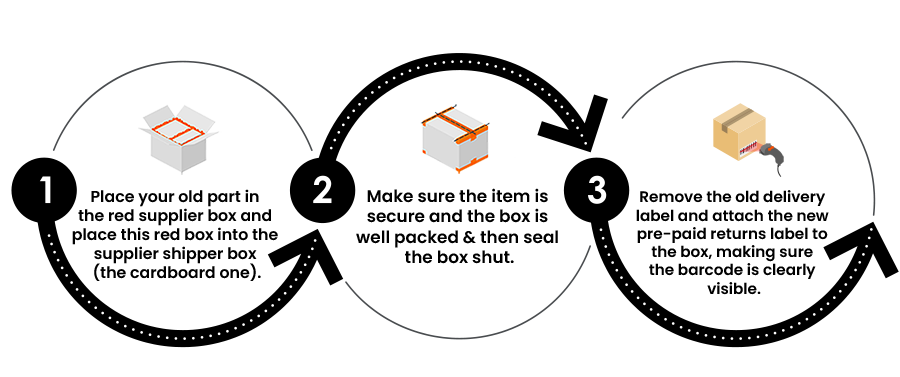 Once you have done this, click here to schedule a pickup with FedEx or to find your nearest FedEx drop-off point.
Upon receipt of your old part at our premises, it will be inspected and if it is in serviceable condition, we will process your refund back through your original payment method (i.e., credit/debit card, PayPal or Klarna). This usually takes 2-3 working days from receipt of the old part.
You must return your old part within 28 days of purchase to receive your refund.
If you have any questions about this process, you can email us at Sales@StarterMotorAlternator.com.
Why do we do this?
As a business we have made a commitment to supporting remanufacturing. Remanufacturing allows us to supply our customers with products that match the quality and specification of original parts, unlike many other suppliers who simply sell copy products manufactured in Asia. But this process requires the reclamation of used products, known as "cores", and in our situation this is why we have refundable deposits in place.
Remanufacturing offers many environmental benefits. According to the latest report by academics Ron Giuntini and Kevin Gaudette, the estimated worldwide energy savings of current remanufacturing is an incredible 400 trillion BTUs (British Thermal Units) of energy annually. To put that figure into perspective, that's the equivalent of roughly 16 million barrels of crude oil (about 350 tankers), or enough fuel to run 6 million cars for a year. As a direct result of these energy savings, remanufacturing is also extremely effective in reducing greenhouse gas emissions. All of this allows us to play our part in pledging a greener future for all.